Chaloemphon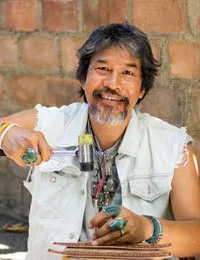 Chaloemphon
"Leather craft is more than a source of income — through leather, I also meet many new friends around the world."
"I'm Chaloemphon Krasear, but you can call me 'Noi.' I was born in 1959 and grew up in Khonkaen Province. My childhood was very simple, like that of other boys who loved traveling and playing. I liked studying art most of all because I could create by completely using my imagination, and didn't need to memorize a lot.

"When I was in high school, I had an elder friend who just finished studying at the art school in Bangkok. He came back to open a shop and sell handmade leather crafts, like shoes, bags, and such. I'd visit him at the shop when I had free time because I needed his advice on taking the college examination and studying. Poh-Chang College, where he went, is the art student's dream school. There were many fields of arts to specialize in.

"I learned his craft through visiting. I studied each step to produce items in leather. When he had too many orders to handle, I would be his assistant. Most of the tasks I helped him with were very simple, such as finishing the details of a piece, painting, tinting, and drawing.

"I had practiced my drawing until I could pass the college exam. Then I could apply to study arts, as I had imagined. I selected the faculty of National Fine Arts, which focuses on the Thai Arts — for example, making khon masks. These are traditional Thai masks which are used for important ceremonies. In the past, these were used only by his majesty the King and the royal family. It's very hard to find the khon show at present. It represents the arts of Thailand in many ages.

"After that, I started to do airbrush paintings on bicycles. It was very famous at that time.

"Then, I open a small leather shop in Khonkaen province. Unfortunately, it wasn't as successful as it should have been because I loved to give my work to my friends as souvenirs. So the income wasn't enough to continue the business. Therefore, I decided to pack the materials in box and move to Chiang Mai.

"I had worked in interior design for hotels and resorts. Since Chiang Mai has become a tourist city with many attractions, I decided to go back to Khon Kaen and bring all my leftover craft supplies to start working in handmade leather again in Chiang Mai. I not only create leather bags and belts to sell, but also repair these things.

"Working with leather is never boring and I've never felt like giving up. The most important material is cowhide. It is very resistant and can be used long-term. I must plan very well how to cut the leather to minimize waste. Then, the cut leather is put together by hand. Each process — cutting, sewing and dyeing — all are done by hand.

"I always love to learn about new handmade leather products in order to develop new designs of my own. Leather craft is more than a source of income — through leather, I also meet many new friends around the world. Some of them are tourists who bring me leather goods to repair or come to buy a new leather belt.

"My wife sews the bags. We are very happy to work together. We also provide opinions and support to each other, always. Many times, my wife inspired new designs, so they are now more diverse. I've sold more to women shoppers, as well. My wife keeps the waste leather to cut into many different shapes to decorate fabric bags or create the small key chains we give to our customers as gifts.

"When someone asks about the process of leather craft or wants to learn, I am willing to teach them gladly.

"I've been doing this in Chiang Mai since 1986. It's been a happy time and I've enjoined my work a lot. I have a small, warm family. My daughter is going to graduate in nursing and she is also a special violin teacher. My wife, our daughter and I enjoy music every evening. My wife plays the cello, I play guitar, and our daughter plays the violin. That's it — my happy family.

"I really hope that you will be very happy with my designs and I look forward to your feedback. Thank you."