Ila Suleyman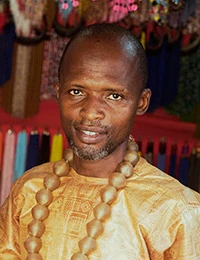 Ila Suleyman
"My forefathers were predominantly millet and cattle farmers, and they would use the leather of the animals for accessories such as talismans, bangles and necklaces for personal use."
"Assalamu Alaikum. Peace be unto you! I'm Ila Suleyman, of Bawku in Ghana and my parents are Rayende and Nabiga Suleyman. I was born into a family of artists who have carved and crafted wood and leather products for several family generations. I have been told the crafts that we do date back to more than a century ago, but it was my great-grandfather who took on the craft and made a real venture out of it.

"My forefathers were predominantly millet and cattle farmers, and they would use the leather of the animals they reared for clothing and accessories such as talismans, bangles and necklaces for personal use. My great-grandfather saw this natural talent and skill as an opportunity to develop a successful venture which has become a family enterprise.

"Growing up, I was very fond of my grandfather and I spent a lot of time with him. He taught me a lot of things including how to prepare natural leather and create beautiful things of it at a very early age. Right out of senior high school, I had the option to pursue other activities but I was interested in walking in the shoes of my grandfather, father and other family members who ate and lived art. I had already mastered the craft by then, and I was intrigued by the deep thought and patience that went into crafting a piece.

"I joined my father at his workshop and helped him create new designs and craft leather accessories. I designed a more youthful and modern collection which was incorporated into the traditional styles that we were used to creating. These sold very well and, from then on, my father trusted me to work more independently.

"I have since introduced new materials in my collection by exploring the use of other natural materials such as wood and some recycled materials. These are designed and crafted by me with assistance from my childhood friend Deri, who has become my partner in the workshop, along with a staff of five.

"My designs are unique and traditional with a modern feel. I draw inspiration from my rich culture and from the natural world that surrounds me. I also research modern fashion trends for ideas in style and colors that are right for the market I craft for. Although I introduce modernity in my designs, they are finished as timeless pieces to be cherished for generations.

"My favorite thing about my art is the way people react to it. I've seen it cause joy, happiness, contentment and, most of all, I love the smiles it puts on the faces of those who favor my collections. This makes what I do for a living worthwhile.

"The major challenge I face in my craft business is the industrially manufactured copies of our authentic hand-crafted artistry that flood the market, and threaten local artisans like me. I rise above this by producing wonderful and more interesting handmade designs. I also work with other artisans who create handmade jewelry in order to highlight the positive impact it has in our lives when people support artisans.

"I love what I do and I don't see myself doing anything else but art. When am not designing or crafting, I like to be in a quiet and calm place like the beach. I also like to party occasionally with my friends. I am a friendly and outgoing person.

"I help the physically challenged in my community by training those who have an interest in arts. I also do what I can to support the less privileged by helping them complete their primary education. So far, I have assisted four people who have successfully completed their primary education and have moved on to technical and secondary schools.

"I hope that my life turns out so well that I may contribute to the development of my community and country. I also hope to showcase my work in international communities and create awareness of what Africa has to offer in terms of talent in art and craft. It is my dream that my designs will be known worldwide. I believe working with you will be a start to living my dreams and aspirations."