Rachel Armah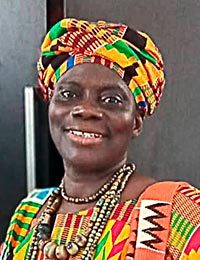 Rachel Armah
"I am a single mother of two daughters and due to the hardships I have faced as a single mother, I have done all I can to support my girls through petty trading and teaching."
"Growing up in Abiriw was enjoyable and exciting. It was very much a communal life, and every year in September we celebrated the Odwira festival to give thanks for a good harvest and year. Festivities included a grand durbar of chiefs amidst drumming and dancing. The highlight of the celebration for me as a young girl was the display of the beautiful traditional colorful attires that people wore and accessorized with gorgeous beaded necklaces and other adornments.

"I grew up with my father and sister, my mother passed away when I was a toddler, but I was fortunate to have an adopted mother who took care of all my needs as a young girl. She was such a blessing and she treated me like her biological daughter. My father was a teacher; we traveled with him all over Ghana to where he was posted so I have lived in almost every region of Ghana.

"Although we had some financial difficulties I was able to get a basic high school education in Cape Coast, followed by a Higher National Diploma in Secretarialship as well as a Diploma in Business Studies at the Takoradi Polytechnic. I also took a course at the Federation for Professional Business Women, an NGO, in Clothing and Textiles. From there I worked with the Ghana Education Service where I taught Secretarialship, as well as Clothing and Textile for ten years.

"I am a single mother of two daughters and due to the hardships I have faced as a single mother, I have done all I can to support my girls through petty trading and teaching. With my background in clothing and textiles, I started sewing for people to supplement my income and I realized the need for accessories to enhance the cloths I produced. With this new awareness coupled with the rich cultural experience I had growing up in different towns, I got into bead making.

"I learned the skill from a friend who graciously taught me at no cost. It was a very smooth and pleasant learning process and I was excited to put to use what I was taught. My friend was a good teacher and I a keen student, so in three months I was ready to start crafting pieces and selling them. However, due to financial constraints I wasn't start my own venture, I needed some capital to buy the materials and tools to start.

"God being so good I was able to put some money aside through my sewing to purchase what I needed and I have been designing and crafting beads since 2007. I am currently focused on my sewing and bead making, and now there is one more artisan and two apprentices who help me with both trades. I also call upon casual workers for when it gets really busy.

"I have a real passion for what I do and I work mostly with natural stones made into beads. I travel quite a distance to the eastern region of Ghana to get natural bauxite and soapstone. I am in contact with stone carvers there who shape and cut them to my specifications.

"The challenge I face on such trips is being away from my girls longer than anticipated due to changes that need to be made to stones ordered, or disappointments in producing goods on time by the stone carvers. Aside these few challenges faced, I am grateful to God I can provide for my daughters' needs through this trade.

"My daughters always like to sit with me when threading the beads whenever they are out of school, and they are eager to learn, especially the eldest. She always comes up with very interesting arrangements and colors when I allow them to play with the beads. They love to make pieces for themselves and show them off to their friends!

"I am a friendly, hardworking, kind person and I like to evangelize with members of the church I attend. We visit villages and small towns on the outskirts of Accra on regular basis and I occasionally visit prison inmates in some of the prisons in Accra to evangelize, give support and hope anyway I can. The time spent with them is so heartbreaking and rewarding at the same time. I believe we all need each other in life so although it breaks my heart to see inmates who have been neglected by their families because of bad decisions made, it is also rewarding to give back to society in my own small way.

"I also like to teach under privileged youth how to make tie dye and batik free of charge. I have taught over forty people so far who have gone on to do this to improve their lives and to earn a living for their families.

"My dream for the future is to be able to set up a school with all the facilities needed to teach young and underprivileged girls bead and batik making on a large scale. I also hope to acquire the skills and machines needed to be able to carve out the stone beads at my workshop so I can have access to materials on time.

"Although we now reside in Accra, I make it a point to be part of the yearly Odwira festival in my hometown to be with my extended family, where I draw inspiration from.

"I hope you will enjoy my jewelry! I would like to say thank you to Novica for this opportunity to earn a living and share my jewelry with the world."