Maria Esperanza Jauregui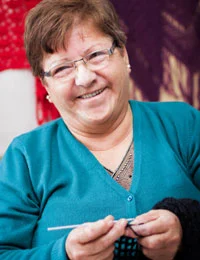 Maria Esperanza Jauregui
"I enjoy demonstrating the ability that we women have in our own hands, and that we can get ahead through our own work."
"I was born in the Department of Amazonas on June 24, 1951. My mother was a homemaker and my father was a junior high school teacher. Thanks to him, we learned the value of studying and respect above all things. He also taught us to love ourselves and not let anyone put us down.

"I learned the textile arts little by little, watching my aunts, friends and knitters from the time I was very young. Every day I liked this work more and more, so I practiced and practiced until I could knit and crochet myself. "I began by knitting little sweaters and blankets for my dolls and today, I continue knitting and crocheting. At first, I took classes and eventually taught these same skills to my students in workshops organized by the city.

'When I was a little girl, my mother sometimes had to go out of town and she would leave me with my brothers. I'd slip off to the store and buy wool on credit to knit. So that my brothers wouldn't see what I was doing, I'd hide upstairs to work. The funny thing is that when my mother would come back, the shopkeeper would call her to pay for what I took, but she thought I had bought candy. Imagine her surprise when she found out I was buying fabrics and yarn. From then on, my mother bought me the materials. This made me very happy, and made me feel very sure of myself.

"My hobbies are knitting, crochet, hairpin lace, embroidery and weaving. This is what I enjoy doing the most. Little by little, it became my work as well as my favorite hobby.

"I treasure my art and have practiced it most of my life. So far, I'm not tired of it and I continue to participate in workshops to improve my techniques. I pass them on to other girls who also enjoy this sort of work.

"I love it! I could spend for hours and hours knitting and crocheting with no problem. But what makes me really happy is looking at a finished piece, admiring it and making sure it's an attractive design of good quality. I enjoy demonstrating the ability that we women have in our own hands, and that we can get ahead through our own work. It's fascinating to explore new techniques, finishings, flosses and textures that can feel good when worn. I'm proud to tell you that my work took third place in knitting in a contest held in Lima.

"When I was studying to be a teacher, I fell in love and ended up pregnant. My father could not accept this and, to support myself, I turned to my knitting. I was able to sell my designs and pay for school and my living expenses. It took a lot of effort, but I was able to finish my degree.

"When you choose my designs, you'll receive something crafted by hand and I'm sure you'll love to show them off. Thank you, Novica, for giving artisans of my country an opportunity, as it is greatly needed."