Siriporn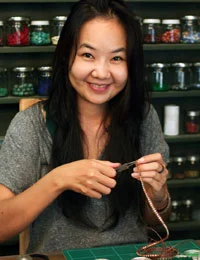 Siriporn
"Small grass flowers growing beside the road, the caterpillar on the tree brunch… butterflies. All of these serve as inspiration to create my jewelry."
"I'm Siriporn Tongwat. My nickname is Koy, which means 'Pinkie.' It's usually given to the youngest daughter of the family. I am the younger of two children – I have an older brother and we live with my parents.

"I actually have a younger sister of sorts that must be mentioned. She is our cat, Matoom, the boss of the family. When my mother is cooking in the kitchen and we are also hungry, then Matoom cries out and she will get her food before we do. I cannot be patient for my envy.

"Before we moved to Chiang Mai, we lived in Petchabun in Central Thailand. Petchabun's symbol is a sweet tamarind because the province is filled with tamarind groves. My childhood was very simple but my dream was wonderful.

"My dream was different from those of other children my age. Most of them wanted to become a doctor, nurse, solder or policeman, but I wanted to be a person who creates buildings. Every time I had to write an essay, I wrote the same story. So my friends always thought I would like to be a construction laborer. However, I was never hurt or angry with them because being a laborer is very important in making the building a reality. I took the entrance exam to study architecture. I was very happy there and paid great attention to my studies. But this is a job which requires great patience, responsibility and carefulness. I thought it was not appropriate to me, so I decided to leave my dream.

"One of the luckiest happenings in my life was moving to live in Chiang Mai. There are lots of art and culture festivals, which provide many interesting handicrafts. I myself had a chance to attend some traditional events, for example, joining the march of the river goddess worship ceremony called Loy Kra Thong. I chose to bring decorations crafted from local materials to sell in the Lanna Inherit event. My materials were easy to find and cheap, for example, interesting wood scraps. I peeled the fresh bark neatly, polished the wood to sheen, and knotted it into a bracelet with hemp robe.

"That was the first step toward working with beads. Together with Kai Kitima, another featured artist, I set up a workshop in 1997. I learned a lot from working with her over six years, and would like to take this opportunity to say thank you to her and her lovely family who gave me the great experience and took care of me very well.

"In 2003, I associated with another friend to open a small shop. We sold necklaces, bracelets, earrings and other small decorations. Most of them were made one-of-a-kind pieces. When they were sold, we would make a new design. My designs used a very wide range of materials – glass, stones, soil and gemstones. I matched everything together as sculptural works. I couldn't receive many orders because only the two of us crafted the designs and we were afraid that we might not be able to deliver them on time.

"Some people just bought my necklaces for their art collections, since my main designs were crafted from hundreds of tiny beads. Moreover, they were decorated with beautiful and very exquisite details, but they couldn't be worn. Sometimes, I'd take an entire week or two to finish a piece. I'd even forget to sleep!

"Recently, I let my parents rest at home and find a hobby, since I have enough income to take care of them. This was a very big decision in my life because I have to change my role as the beloved youngest daughter to that of the leader. It is a heavy decision for a woman like me. However, I'm enthusiastic about making other people happy and proud of me.

"I don't have the shop anymore because of economics and time management. However, I still love working with beads. So I send my designs to a friend's shop in Bangkok on consignment. I now have more free time, so I spend it simply traveling on foot. Some days, unconsciously, I walk many kilometers, very far from home. I walk slowly and survey the environment around me – even small grass flowers growing beside the road, the caterpillar on the tree branch. I have looked at them until they turn into butterflies. All of these serve as inspiration to create my jewelry."