Jariya Kakaew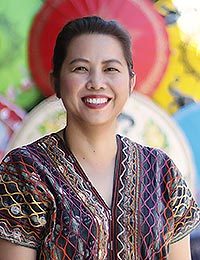 Jariya Kakaew
"As a local Thai woman, I'm very proud of the fact that I can have the career that I love, and to be able to provide for myself and my family."
" Sawasdee kha, my name is Jariya Kakaew, but everyone calls me Nai. I was born on 20 February, 1977, and I grew up in a small, warm family environment. I only have one older brother. My parents are kind people, so I always feel that we have a happy family.

"My mother has long specialized in batik and I often helped her. However, demand for batik work decreased and I worked with a friend making saa paper goods, for about two years. During this time, my brother resigned from his job to design cotton clothes. He has always loved arts and handicrafts, just like me. We grew up in an area renowned for traditional handicrafts, so we had the opportunity to learn many techniques and art forms, but we just never really had the time to do much about it.

"It turns out that my brother's clothes collections are doing pretty well. His designs are nice, and he received quite a few awards within a few years. He has exhibited his collections throughout Thailand as well as in the United States.

"In 2004 I started to work with my brother in the areas of design and production. We help each other when selecting quality materials and nice colors, and we transform them into trendy designs. By the time I developed the skills to do things on my own, my brother began to explore other areas, so he left me in charge. He is still around, ready to offer support and advice when I need it.

"Our cotton designs focus on using natural materials for a modern lifestyle. We use the method of coiling thread to decorate a lot of the work. We are glad that people like our ready-to-wear cotton collections. It also brings plenty of work to everyone involved, including people from different villages who help us transform cotton into different styles of clothing and decorative items.

"Myself, my brother and my team, we always work with natural materials, traditional techniques and wisdoms to create original designs and patterns suitable for modern ways of life, in Thailand and the rest of the world. I hope that more people will like our work and appreciate our efforts in working with environmentally-friendly materials, as well as constantly developing more new styles.

"I'm proud of the fact that there is a story behind every design we make, and that each item represents a collection of highly-skilled group of people.

"As a local Thai woman, I'm very proud of the fact that I can have the career that I love, and to be able to provide for myself and my family. This career has also generated work and income for many people who get involved in this project.

"Thanks for giving us the chance to present our designs to the world. I do hope that people around the world will like our designs."