Emmanuel Atiemoh Yeboah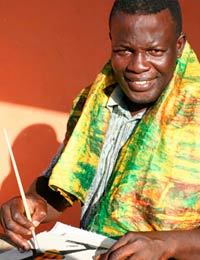 Emmanuel Atiemoh Yeboah
"I derive my motifs from social, cultural and historic events."
Latest Update

"It has been 12 years since I started working with Novica. This organization has helped me support my children's education as a single father, and I'm very proud of what Novica has done for me as an artist.

"When I started art as a business, marketing was my main challenge. But since this organization helps me reach the world with my art pieces, it is no longer a problem. I have been able to inspire a lot of young talent to be able to create good art. My goal is to reach the world with my great artwork. And I say thank you for pushing me this far."

Original Artist Story

"My name is Emmanuel Atiemoh Yeboah. I was born in the Eastern Region of Ghana on July 3, 1956.

"I worked at a government survey department from 1981 to 1982. I was later asked to attend their Cartography College. Upon graduation I worked further, but due to lack of professional satisfaction, I left for Nigeria. That was in 1983.

"In Nigeria I worked with a sign-writing company. I started with the sign writing department but later changed to the artwork department. I polished my art skills in that department. I later worked with a company that exported African arts and crafts. We toured the whole of Nigeria buying goods. It was on one of these tours that I came across this type of artwork and fell in love with it. I suggested to the owner of the company that I make some.

"In 1993 I decided to come back home. I started working on my artwork. I sketch images on paper. I then assemble my working tools - glue, watercolor, and cloth. I sprinkle the watercolor on the paper to make it beautiful. I cut out all the sketches and make them into beautiful designs. Afterwards, I leave it to dry and then I frame it. I derive my motifs from social, cultural and historic events.

"I am a single father of two - a boy and a girl."