Adriana de Gadea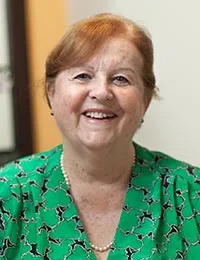 Adriana de Gadea
"I want you to feel happy and enjoy my jewelry as much as I do."
"I'm Adriana Rosa de Gadea, born in Italy in 1945. I've lived in Peru since 1962 when my father's work brought him to Trujillo. I went to school there, graduating from college with a degree in economic sciences. For the next 13 years, I worked in a bank. By then, I was married with two daughters and we moved to Lima when my husband was transferred there.

"I worked another ten years in a bank in the capital. I resigned to take some time out with my family and especially to dedicate some time to the girls. I began to look for something I could do that would let me manage my own time and had the wonderful opportunity to study jewelry design for a year. After I finished the course, I began crafting jewelry as a hobby. But it snowballed and today I dedicate all my time to this craft.

"I work from home, and even weekends and holidays find me at work. My clients have become my friends and there is no request I won't answer. They tell me, 'Adriana, I need something urgently. It's someone's birthday and you're the only one who can help me.' Of course I don't turn them down. I love to help and it's a part of my being.

"Jewelry design is my principal activity. It's an enormous satisfaction when someone asks me to make a piece and I can see the happiness on her face. This fills me with pride and makes me look for better designs and craft better pieces day after day. To see people contented with my jewelry… my designs are an expression of art and I need to feel inspired the entire time so that each one comes out the way I want it to.

"The forms and colors of a piece inspire me as I work. I really don't try to transmit a special message, just the quality of my jewelry. This is something I've always paid special attention to – that no one comes knocking on my door to tell me a piece is badly crafted. This is the secret of my jewelry.

"I want to tell you that you'll be pleased with the quality and finishing of my designs, and won't find anything like them. I want you to feel happy and enjoy my jewelry as much as I do."