Dina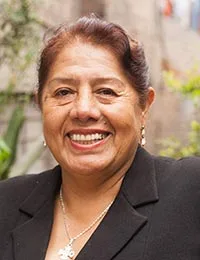 Dina
"Ceramics definitely marked my life from the time I was a girl… I love how I could change a piece of clay into something beautiful — not only décor accents but also jewelry."
Family is the greatest blessing for the human being. Dina and her family rely upon their effort, union and love to recreate the artistic legacy of the ancient Inca in Peru.

"I'm Ubaldina Paucar Achancaray. I was blessed to have been born in the extraordinary imperial province of Cusco in 1953. This was the capital of the Inca Empire, and the city of Cusco was one of the most important during Peru's colonial period. The Spaniards built beautiful churches, palaces and plazas in the baroque and neoclassical styles. "I had a lovely childhood within our possibilities. My parents focused on giving all the love possible to all their children. We grew up in the district of Pisac in the Sacred Valley of the Inca.

"I thank God that we were all able to go to school and get an education, but it was very difficult for the whole family. Our parents made admirable sacrifices to always give us all the best.

At school, I loved the craft classes. We learned all kinds of techniques that our ancestors used every day. I felt an immediate connection with ceramics and painting, but I didn't do any more with them.

When I was 17, I enrolled in an art school near the famous archaeological site of Intihuatana. Here, I learned to weave by hand on traditional looms, I learned to work in ceramics, to paint and how to craft jewelry. These years were incredible for me! I never thought I'd dedicate myself to any of the crafts but ceramics definitely marked my life from the time I was a girl. It impressed me the most. I love how I could change a piece of clay into something beautiful — not only décor accents but also jewelry.

"This school in Pisac was fundamental in my life. in fact, I feel very grateful for this stage of my life. That school formed the basis of my education and I spent three years there. I majored in fines arts and ceramics.

"I eventually began selling my work not far from our town. I sold it in downtown Cusco, in shops, in markets and in parks. With so many brothers and sisters, our family's economic situation was precarious and we all needed to help.

"Although my heart was in Pizac, when I rurned 18, I moved to Lima. I needed to earn more money, and I have some relatives who were living in the capital. I went to look for them with a little money in my pocket, a few clothes, ready to face the challenges life had for me.

"When I arrived, I worked with some of my family in different kinds of jobs. In one of them, I met the man I married, who was a friend of my cousin. He was an automotive mechanic and had a workshop of his own. Little by little, our friendship grew. We fell in love and decided to face life together, committed to working hard together.

"Our little family grew fast. God blessed us with four children. Taking care of the house and children didn't let me take a job outside the home. So I decided to go back to my ceramic work, and to paint. I looked for the materials and my husband helped a lot. I became his teacher and this is how our art project got its start.

"With patience and lots of practice, he developed such skill that I he surprised me. I think his work was better than mine, He left his mechanic work to craft decorative ceramics and jewelry with me. We often went back and forth from Lima to Cusco for training, and tried to give our best so that our children would follow in our footsteps and carry on this family legacy.

"I consider myself a positive woman, enterprising and with a desire to get ahead in life. For me, my family always comes first and we work hard every day to provide for them with great love and passion.

"We've had some tough times. Setting up a jewelry workshop require that we invest money and sometimes we didn't have it. But we never gave up, and this taught our children to look toward the future and to help others, to love and work tirelessly for their dreams.

"The worst for my family was when my husband was diagnosed with cancer. It was devastating to lose him after a long and loving marriage. But he left us with many lessons and the art we so passionately developed, the art our children carry on today.

"I feel proud of my Peruvian heritage and the legacy of my ancestors. I'm able to carry this on through time and history."