Wilson Aboagye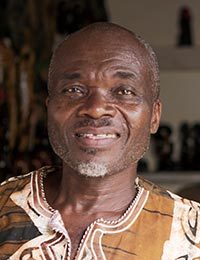 Wilson Aboagye
"I carve different types of masks and any of them have a meaning."
Update (August, 2019)

"My carving business started in Aburi along the roadside, but now I have my own shop that I operate in Aburi. I have three people that are under me that I am training. I joined Novica 10 years ago, and those years have been full of excellence. As an artist, the marketing of my final work was a big issue for me; therefore when I heard of Novica I didn't miss the chance.

"I quickly got my works assessed and approved for listing on NOVICA. As I started making sales, the money went into taking care of myself and my family. I must say that, though my sales pattern is slow, I am able to use the money I get from my sales to pay utility bills and to feed my family, as well as for the schooling of the children.

"My aim is to increase the sales of my products, in order to create more unique items."

Original Artisan Story

Wilson Aboagye is a Ghanaian craftsman, born March 21, 1963.

"I attended Anglican primary school in 1972 and Anglican middle school in 1979," he says. "I got interested in Ghanaian African carvings when I was a child, so after middle school I learned the trade through a man named Mr. Akoffour. Now I have my own workshop and am training three people.

"I carve different types of masks and many of them have a meaning. My products are unique and my target is to create more."