Francis Agbete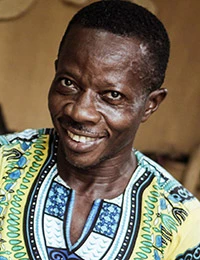 Francis Agbete
"I have always helped my father when he's needed me, so coming to assist my father at the workshop at this time of my educational career was not a new job for me."
Latest Update

"Since I joined Novica in 2003, I have succeeded in gaining international recognition. Before, I only sold within my country and neighboring African countries. But now I can sell more easily on Novica's vibrant website. This has shaped my life. The steadiness of my Novica sales has resulted in my family being able to rely on me since I am now better off financially.

"I've improved on my skills, purchased better hand tools and raw materials. I completed higher education in Hospitality and Tourism, and two of my siblings are now graduates through my support. All my children are in good schools, at various levels -- elementary and secondary schools. This has been possible through my Novica sales. My financial situation has improved dramatically since I joined Novica. The turnaround included purchasing my own land where I was able to put up a building where my family and I reside, a place we can call our own. Shelter is a key security avenue for me.

"In my community, we have set up an association meant to check the welfare of the people in the community, and because of the respect I have earned through Novica, my positive attitude, and the way I handle the affairs of my family, I have been made leader of that group. When designing my pieces I try to use precision and pay a lot of attention to quality. Other artisans in my region now ask for my opinion when designing. I would like Novica to continue to equip artisans with information on contemporary issues to help us improve on our works, and to continue helping us with microcredit loans to expand our endeavors."

Original Artist Story

"My name is Francis Agbete and I come from a family of traditional wood carvers. I was born in 1976 in a suburb of Accra. I attended the Vakpo Secondary Technical Institute from 1994 to 1996, and upon graduation, I enrolled at the Accra Polytechnical Institute to read the Mechanical Technician course grade two. While at school, funding was becoming a difficulty. So during weekends and vacations, I would visit my father's wood carving workshop and assist him by carving some products for sale. I have always helped my father when he needed me, so coming to assist my father at the workshop at this time of my educational career was not a new job for me.

"The realization eventually dawned on me to stay on, work on my own designs, and display my own woodcarvings so that I could earn enough to support my education. I ventured and opened a workshop at the Craft Village near the Tetteh Quarshie Circle. Managing and controlling the operations of the shop was becoming a problem since, as a student, I needed more time for my studies than for my carving jobs. To solve this problem, I explained this idea both to my sister, Mary Agbete and my cousin, Stephen Agbete and asked them about the possibility of looking after the workshop and selling the items I carved while I was at school. They agreed.

"This arrangement has continued to work until now. We opened a new workshop, and not only do I exhibit my own work, but there's my father's work too. The workshop has become a family business that caters to diverse customers including expatriate staff, tourists and hospitality companies.

"My family and I have showcased our designs at various wood fairs and international exhibitions such as the Ghana International Wood Product Fair, FESTAC and the International Festival for Arts and Culture, in Burkina Faso."