Montalvo Family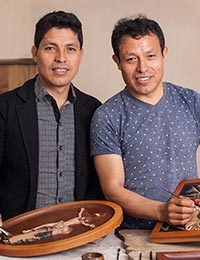 Montalvo Family
"Every piece is an opportunity to express our profound relationship with the Catholic faith."
Brothers Simeón, Javier and Germán Ramírez Montalvo graduated from the San Juan Bosco School of Arts and Crafts, a school for low income students in the central Andes. Taught by Italian Salesian priests of the Mato Grosso congregation, they learned the secrets of woodcarving.

From the time they were small, they worked in carpentry and in molding ceramics, popular activities in their town. In school these skills were augmented by other abilities, especially woodcarving in high and low relief.

Their themes and inspiration come mostly from the influence of the priests who taught them; many of their works depict religious events. "It is a way of touching people's hearts," Germán says, although they also choose themes related to customs, culture and modern trends.

In 2002, the Montalvo brothers participated in the Inti Raymi Competition with a piece by Simeón that, they say, was considered for a prize. They also exhibited their work in the Wood Sculpture collective in the Parque 8 de Junio de Miraflores (Lima, 2002). They took first place in the Crafts and the Environment Competition (Ancash, 1999) with a work by Javier.

They work principally in cedar and mahogany wood, painted with oils. Simeón spends part of his time teaching the techniques to new students at the school. He receives no salary for this, but feels it is a way to repay the years of support and encouragement they received.

It is satisfying to the brothers that their school has always been one of the best, both in traditional courses and in art workshops. Challenged to create works that are accepted, one of their goals is to become recognized around the world.

"Every piece is an opportunity to express our profound relationship with the Catholic faith," Germán says. "It is due in no small way to the education we received as children from Salesian priests."