Oscar Figueroa Escorcia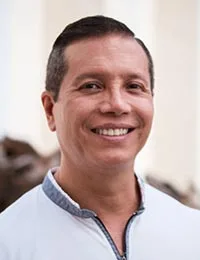 Oscar Figueroa Escorcia
"My collections are based in the origin and traditions of our culture - some are entirely classic, while others also incorporate highly stylized elements."
Latest Update

"I now have more than 30 years as a jewelry designer; silverwork is iconic where I live in Taxco, Guerrero. I am very passionate about my work, and it gives me incredible pleasure to capture the traditions that have given us identity, through creation in jewelry.

"I wish I could share each of the stories behind each of the collections, and the way that our hallmark is from pre-Hispanic culture. I want to express respect for our environment, and show our beliefs in culture and values and the value of the present.

"I think that one of the biggest challenges we face is the constant change in the fashion market. It is a constant learning experience. The challenges will always be there; it is part of the process. The key to permanence is innovation.

"Doing what I love has given me the opportunity to receive several awards, including a first place in the Palace of Fine Arts, and thus position my collections in Europe and Asia. I am very proud to be Mexican and to be a producer of change."

Original Artisan Story

"I was born in the city of Taxco on February 2, 1964. Growing up in a silversmith environment, especially since my city is recognized worldwide for its silver jewelry, I decided to venture into this same craft. In 1983, at 19 years old, I began to make my own designs. It took me four years to prepare the design and elaboration of my own lines. Now I am proud to say my jewelry collections have been accepted in the US, Europe and South America.

"I studied until secondary school here, but then I had to continue my studies in the state of Mexico. I went to university in Mexico City and later I finished a post-graduate degree.

"After the design is complete, the process begins with the melting of pure silver that is purchased in small grains, forming an alloy with a minute amount of copper to give the metal a better consistency and to be able to work with it. That is why it is 0.925 silver.

"Once the metal is melted and transformed into a sheet, it is passed through a laminator to make wires, bezels, etc. When we have the metal and it is ready to be worked, the designs are placed on certain areas of the sheets. They are cut, then sanded on all sides. In the case of bracelets and necklaces, they are put together using wires already specific to the intended design - flat, triangular, square, etc. They are joined with silver welding using a gas welding torch and this is how they begin to take on shape, whether it is flat, twisted, concave, etc.

"The size and specifications of each product are double-checked to see if any corrections are necessary. Once joined, the pieces are submerged in nitric acid to clean the silver and leave it white. Afterward, if the design requires stones, the stones are set and adjusted according to the design. Finally, the pieces are polished by hand with cotton cloths over a polisher with a small motor using a special paste. It is in this step that the surface of the piece is given its smoothness and now it is ready to shine with a mirror finish.

"To clean impurities from the piece, it is submerged in an ultrasound tub to pass the quality control test where they accept or reject pieces.

"My collections are based in the origin and traditions of our culture - some are entirely classic, while others also incorporate highly stylized elements. When the designs are well thought out in the varied original materials of our country, it is easy to create jewelry that lends beauty and elegance to the wearer."