Matta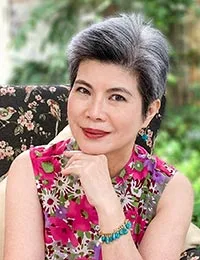 Matta
"I love wearing nice things – I always have."
"My name is Matta Nandrakwang, I was born and raised in Chiang Rai, the northernmost province in Thailand next to the border with Myanmar (Burma). I grew up appreciating this naturally beautiful area, home to rich and diverse cultures as well as many ancient ethnic tribes. Since the area is rich with gems and the main activity was their trade, I began to learn and develop a passion for the various gemstones.

"Ever since I was a young girl, I have been enamored with the hill tribe people's love of jewelry. I regularly saw people around me wearing jewelry. I recall seeing a hill tribe girl my age, seven at the time, wearing beautiful silver jewelry accessorizing her colorful costume. She had silver coins hanging around her face, more silver ornaments on her, as well as beautiful beads. I couldn't take my eyes off her! I don't remember exactly what I said to my father about her, but remember clearly that afterwards I got my first gold ring with a little blue star sapphire. I felt I was on top of the world.

"Years later, when living in Bangkok during my college years, and after working for four years in a public hospital after graduation, I realized that although I liked helping people, I could not see myself being a nurse for the rest of my life. I subsequently left Thailand to travel for two years, and came to the conclusion that what I really wanted to do, was to work with gems. Even then, in the West, people would ask, 'are you going to a party?' because I was always wearing jewelry. I love wearing nice things – I always have.

"My sister and I have always enjoyed visiting jewelry shops. We would buy what we could afford, and admire the higher price pieces. I realized I had much to learn about gems and jewelry, and decided to enroll in gemology school. There I learned all about gems and jewelry making. I learned on my own about bead-making. This passion is still with me after many years. I have opened my own studio now, and I derive great joy from sharing my enthusiasm and knowledge of gems and jewelry with my visitors."