Eric Darko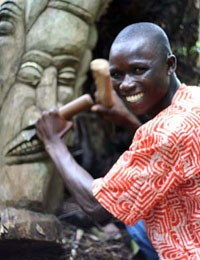 Eric Darko
Darko's inspiration comes naturally....
Latest Update

"I joined Novica in 2008. At that time, production was a challenge due to financial reasons and getting good raw materials. Now I can boldly say I have overcome my challenges and have been able to be noticed outside my country.

"When I started I used to work for someone but since I started working with Novica I have been able to get a workshop and a shop of my own. I train and employ others, and some of my students are now masters on their own and also training others. My work has drastically changed in these years and I am happy with my advancements.

"I now have a wife and three kids, and thanks to Novica and its lovely customers, I have been able to support my family financially. My goals are to share more of my works globally and provide quality of life for my children."

Original Artist Story

Born on April 4, 1978 in the Eastern Region of Ghana, Eric Darko graduated from the secondary technical school in 1999. During school vacations, he frequently visited his brother, for whom he ran errands. Darko took the opportunity to study carving from his brother, learning from his talents.

Right after school he went straight into traditional woodcarving. Initially, business was slow, hindered both by the lack of financial resources and inability to procure quality materials. With help from his family, especially his brother, Darko's enterprise has since been growing tremendously.

Darko is currently operating a workshop in the town where he grew up and where he has been carving seriously to date. Sese, a common wood harvested in the Eastern Region of Ghana, is his primary material. Masks and profiles comprise the majority of his art. His inspiration comes naturally, although sometimes he carves based on his customers' ideas.