Cerapio Vallejo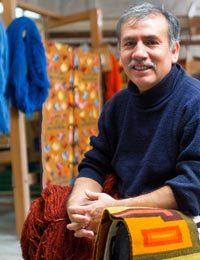 Cerapio Vallejo
"I draw inspiration from our ancient Peruvian cultures, Andean village life, and from our snow-capped mountains."
Latest Update

"After 21 years we have grown in terms of our production and work infrastructure, and therefore expanding our staff, which has allowed more work for more families. We have managed to implement a dyeing laboratory, creating formulas with the advice of Swiss Chemistry, an important laboratory, to obtain uniform colors and be able to easily repeat orders for greater demands. One of the successes in recent years has been being able to sign a weaving service contract with a company that is dedicated to the wholesale export of handmade fabrics.

"One of the biggest challenges was our beginning, when we migrated from the province to the capital due to the terrorism of the 80s. We arrived at the end of South Lima, which did not have basic services. Thank God, today it has become a more central and pleasant place to work and live.

"In terms of my personal life, we have managed to educate all our children, and move our family forward, as well as being able to build a new home in an urbanization. I also recently had the opportunity to tour Europe with my wife, all thanks to hard work. My two children, Robert and Rosario, older and professional, had the opportunity to marry and start a family. Rosario lives in Italy with her husband Andrea and my two grandchildren. On the other hand, my eldest son lives in Lima in his own house with his wife Diana and my 2-year-old grandson. As for my last daughter, Victoria, she is finishing her professional career, and at the moment she is helping us with the management of the business.

"PromPerú gave us the opportunity to participate in the Annual Peru Fashion Fair, 2015. The San Ignacio de Loyola University gave me a recognition of participation for having exposed our successes at work. In addition to that, thanks to the great reception that we had with NOVICA in the 2000s, we had interviews with the newspapers known as EL COMERCIO and La Republica, the television channel 'América Televisión', and magazines such as 'América y Economía' and ' BusinessWeek'.

"Some of my great moments were the success of my children's careers and their subsequent marriages, seeing them come to fruition and enjoying the love of my grandchildren. As for the profession, I am very happy to continue my work which I began more than 40 years ago, where I saw my grandparents make similar fabrics in different materials and textures. Personally, I would like to share the work and art that I have been doing throughout my life. It has become a passion, not only for me, but for those around me. I feel satisfied and really happy to work in my workshop."

Original Artist Story

Cerapio Vallejo's artistry has been featured in many periodicals, including Business Week, Sunset magazine, and the San Francisco Chronicle, and on PBS Television.

"My art form was handed down to me from my parents and grandparents. But the quality of my work is the result of my long experience and the product of my careful observation over the years. I draw inspiration from our ancient Peruvian cultures, Andean village life, and from our snow-capped mountains.

"I have faced many challenges during my life, and I have learned from them. Perhaps the most difficult was when I was obliged to leave my house in Ayacucho with my family. I had to make this painful decision because there was no other way. This was during the 1980s, when terrorism was bleeding my people to death and there seemed little hope.

"Artisans in my region were considerably affected when tourism halted. Even now that Ayacucho is at peace, we remain in our city home; we created a new life here, and are thankful that Ayacucho is flourishing and we can visit it.

"Our sales have expanded greatly since we began working with you and I have been able to support some of my compatriots by offering them a job. Other artisans who used to help me but had to stop working for lack of sales are now able to return to my workshop – thankfully abandoning occupations that did not stimulate their creativity or interests.

"My greatest goal is to continue to educate and guide my children towards fulfillment, knowing that a good destiny must await them. I have three children; for me they represent the continuation of life – and hopefully of art, too.

"Novica is the change of my life, especially as a human being. Before, I sold my products at a local indigenous market. I never received a big order, or constant orders. I was planning to move to Cuzco with my looms and family, to try my luck with the tourist market there. But those plans stopped when I began working with you. In just a few months my income increased so much that I couldn't believe it.

"I became a top-selling artisan. I have now been able to pay for my three kids' education. My little girl is now at the University! To be able to give my family a better lifestyle and security pleases me. You recognize and value my art, respect a fair price, and promote me as an individual. Thanks to you, people now know me worldwide. This has opened up many opportunities I never expected.

"Twenty-five fellow artisans now assist me with my orders, and I have been training them to become as well known as myself. My income has made it possible for me to finance the purchase of 15 lands for them, where they are able to build their own workshops. Their loyalty and trust make me so happy. I have been able to greatly improve my own workshop, to purchase a new house for my family, to purchase a computer and to get connected to the Internet, and to buy the first car anyone in this family has ever owned."