Ernestina Oppong Asante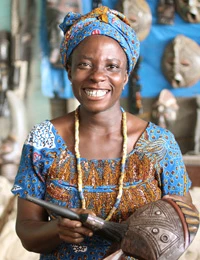 Ernestina Oppong Asante
"Though carving has long been regarded as the preserve of men, I'm glad that I have been able not only to infiltrate but to also make an impact on the trade."
Latest Update

"Prior to working with you, I was selling along the roadside, but now I am in my own shop. One thing I love about you is that you advise artisans so we can grow. I've observed that the quality of my work has improved with your advice. I have also increased the number of designs I have. To a large extent, my sales have increased.

"Growing up, I always dreamed of owning a house of my own and, thanks to your purchases, my dream of building has become a reality. My children have all been seen through school, thanks to you.

Original Artisan Story

Artist and musical instrument maker Ernestina Oppong Assante has been featured in periodicals ranging from Red Herring Magazine to The Christian Science Monitor.

"I was born in the Eastern region of Ghana in 1968, and had my early education there. I trained in dressmaking but, on completion of the course, I realized that the trade would not do well in my town. I therefore decided to learn a popular trade like carving. I trained under Kwame Duah and, within three years, I had perfected the skill and was developing woodcarvings on my own.

"Since 1995, I have been operating a workshop of my own with four people working with me. Fortunately, my husband Daniel Asante also trained as a carver, and so we combine our skills to design and carve the drums with perfection.

"From Nakese in the Eastern region, I acquire a type of hardwood known as tweneboa for carving the drums. For the pegs I use the odum tree. Other materials I use are goatskin, pieces of cloth, iron rods and strings. The wood is already carved into hollows before I buy it.

"I then carve in the adinkra and other symbols and designs. The next stage is to have the apprentices smooth the woodwork with sandpaper. The iron rings which are placed on the mouth of the drum are wrapped with pieces of cloth to prevent rusting. The animal skin is bought from the Northern region of Ghana and its environs. It is soaked in water for about two hours to soften. The skin is firmly pulled through the iron rings to cover the mouth of the drum and this ensures that it comes out with a good sound. The drum is then left in the sun to dry, after which it is tested for sound and tone quality.

"I love making drums. I believe there are very bright prospects for the African traditional drum. Though carving has long been regarded as the preserve of men, I'm glad I have been able not only to infiltrate it but to also make an impact on the trade. For the years that I have been in this craft, I have never had any regrets whatsoever. It is my fervent hope to carve more interesting drums for you to enjoy."