Elias Garcia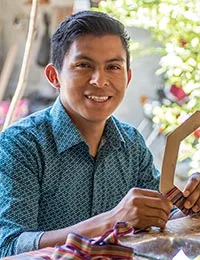 Elias Garcia
"I work alongside my cherished wife, Jackeline, my faithful companion and my best friend."
Elias Garcia is a very hardworking person. From the age of 14, he began to take interest in getting ahead on his own merit. Today, alongside his sister and wife, he strives to have a better future and be able to provide the best for his four-year-old son.

I was born in 1989 in San Lorenzo el Cubo, the youngest of seven children. I had a wonderful childhood but, at a certain age, one gets to the point where they are interested in having their own money. I began to work at the age of 12. At first I tried masonry, and then carpentry, where I learned on my own. I worked in two different workshops. At the age of 16, I knew everything I needed to know, and I bought my own tools in order to begin. Unfortunately, finding work was hard, so I started my own workshop.

My sister, Aura, was already working with you. She gave me a small push to present my own design. I work alongside my beloved wife, Jackeline, my faithful companion and my best friend who has never left me alone in any challenge that I decided to take on. Together, we began to design mirrors and other things. Little by little, through trial and error, we managed to create other designs, and we presented them to you.

These mirrors are primarily for people to have in their homes so that they can use them to get ready for work and going out. But, we wanted to do it with vibrant and happy colors that would infect the people that had them in their homes. If they had a bad day, are sad, or depressed, this can cheer them up.

We are very fortunate to be able to share our art with so many people. Not only do we want to be known, but we also want the power to provide a bright future for our son as he begins to discover life. We want to be able to give him everything that we didn't have growing up. Because of this, we put all of our dedication into our work so that our designs will be pleasing to everyone.