George Obeng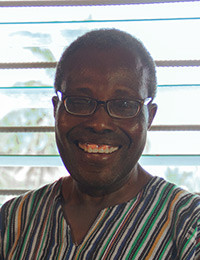 George Obeng
"Carving is my forever passion, and my dream is to build a school for learning sculpture making and carving since there are few around my country."
Latest Update

"I joined Novica in 2008. Before I used to work with the Ghana art council, but I left there to fully focus on producing with Novica. In the art council, I was only allowed to work on the finishing aspect of production which I think limited my creativity because I wasn't allowed to carve. Back then there was no financial support or sponsorship for our production. Since Novica came into the picture, they have been able to help us produce more with the interest-free loans they offer. Joining Novica has helped increase my scale in production, and I produce more than before.

"At first we couldn't buy raw materials ahead of time because we did not have money, and it affected our business and art. This resulted in cracks in our work because we couldn't observe the wood before using it. Normally it is best to buy wood ahead of time to observe it, but because we didn't have money at that time we would buy wood the moment we got an order. Thanks to Novica's loan support, we can reach our creative target now.

"I feel successful because carving has helped me build my own house. I now work at home. I also supported my children's education, and three of them are successfully married. I don't need to worry about where to work now because I have been able to build myself a big home and a space to work effectively. I have helped train 15 people who are now working on their own. Carving is my forever passion, and my dream is to build a school for learning sculpture making and carving since there are few around my country."

Original Artist Story

George Obeng was born on March 30, 1952. His carvings are realized primarily in ebony wood, as the material is endowed with innate strength and beauty that requires no chemical enhancement. Mahogany, odum (oak), sese, and odanta are other woods he employs, although these need to be treated for preservation. Obeng prefers to leave his ebony carvings unpolished, he says, "Because the beauty and natural sheen of the wood in nature is left on perpetual display."

The artist is motivated to carve by one principal theme: "Recording the events" of his time. As an animal rights activist and a committed vegetarian, wildlife plays an integral role in his work, such as the tenderness of the butterfly, the mischief of the monkey, the slowness of the snail, and the vivacious character of the bird. Each of his carvings is a poignant reminder of this critical juncture in the preservation of the global environment and communal ecology.

Themes of the "Third World" also inspire Obeng's art. Depictions of female figures, often carrying children and heavy baskets simultaneously; comments on the cyclical problem of social confusion and irresolution, which extend into the endemic nature of inadequate and/or nonexistent development of facilities like health care, education, food, security. He is an observer of his time, struggling to represent the myriad unheard voices that surround him.

But for his stalwart determination, Obeng would not be the carver he is today. He had been ordered by an elder relative to take up typesetting and printing, and from 1967 to 1970 he was apprenticed to a master printer, having completed Middle School Education with a certificate in 1967. However, he defied his family and undertook part time studies in sculpture from 1970 to 71. Between 1972 and 1974 he took a course in sculpture at the School of Art and then a proficiency course in sculpture at the university College of Art. He worked as Assistant Cultural Officer with the Arts Council of Ghana while practicing painting between 1971 and 1986. Obeng was responsible for exhibitions, restorations, commission, and training workshops for carvers. As an apprentice for Saka Acquaye, a renowned sculptor, he was able to participate in exhibitions in Ghana, Oakland, Britain, Bulgaria, Romania, and China, along with many other African countries.

Since 1986, Obeng runs a workshop where he constantly trains apprentices; he also offers assistance to carvers. His works are displayed in the Official Residence of the Ghana High Commissioner to Nigeria; in Barclays Bank, Ghana Ltd., Africa Films Ltd., and the Arts Council of Ghana, Accra. His awards include second and third prizes in Sculpture, National Arts Contest 1979 and Sculptor of the Year from Leisure Arts and Entertainment, 1988.

He is currently married to his sweetheart with whom he has four wonderful children.