Adriana Trejo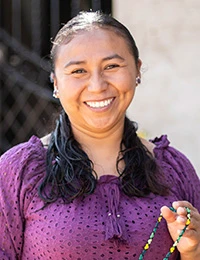 Adriana Trejo
"I craft jewelry with tiny colorful seed beads we call 'chaquira.' I learned from my parents and they were taught by their grandparents; this family art has been handed down for generations."
Latest Update

"I'm very grateful because you allow me to give work to members of my family and to continue supporting their growth. This is vitally important to me. That, and having time with my daughters.

"You have helped our sales grow, and they now represent 50 percent of my income. I'm very happy about that. You have given the opportunity for my daughter to study. And you also give my husband time and resources to support our family.

"At first, I must admit it was difficult for me to adapt to the quality requirements for each design but, when you understand that it is a piece that will cross borders and reach other countries, your perception changes. It's exciting to know that someone uses a necklace, bracelet or earrings that we made with love and dedication.

"As I have grown, I have allowed myself to focus on my priorities. I wouldn't have been able to achieve this without you, as you've given a lot of support and guidance in how to make modern and beautiful jewelry.

"What I like most about my work are the colors we combine, and color is the basis of our work. Creating a traditional beadwork design with modern touches is great.

"I want you all to know that a part of my family goes in each piece of jewelry we make. That our tradition is behind each one, as well as a bit of our history."

Original Artisan Story

"I craft jewelry with tiny, colorful seed beads we call chaquira. I learned from my parents and they were taught by their grandparents, as this family art has been handed down for generations. My grandfather also worked with amate paper, derived from the bark of wild fig trees. Our Aztec ancestors wrote pictographic books on amate paper.

"After we finished our chores around the house, we'd work on our crafts. I was only seventeen when my mother taught me, and I learned little by little.

"My first design was a ring, and I continued with a belt and other accessories. When I was nineteen, we moved to a large city and I began to work with my brother until I found a way to set up a workshop and craft my own designs.

"My two daughters are my motivation in life. Aleida was born in 2009 and Sofia in 2015. I'm beginning to teach this tradition to Aleida. Once she made a ring from beads and it was lovely, even more because it was made by her own little hands. She offered it for sale and it sold quickly. I told her, 'Look! You were able to sell something you made yourself,' and that motivated her a lot.

"What I like best about my work is letting my imagination fly. Playing with the colors and shapes inspires me. Every time I work on a new design, I try to imagine how it will look, and this is how I combine shapes and colors until I can see it finished. This greatly motivates me.

"I remember a design that I found very difficult. It was a complex necklace with many colors and shapes. I used different shades of blue, red, orange, yellow and green, and figures like diamonds. It was large and dramatic. I began to think that maybe I wouldn't be able to make it after all, but I took my time. After three days of work, I finally finished this design. And I realized that you can do anything as long as you are dedicated and constant.

"Attention to detail is extremely important to me. It's essential to knot the threads neatly so that every piece of jewelry is pretty. I so enjoy working with my family. But this work has also let me give jobs to others in my community."