Claudio Ojeda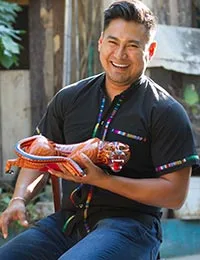 Claudio Ojeda
"I think that every day is a struggle and, in that struggle, alebrijes are our guardians."
Latest Update

"My mother, Teresita Gonzales, also a featured artist, and I began working with you in 2018.

"It's been a real adventure, since we've been able to introduce our work to more people and my sales have increased. We have grown as artisans, preserving one of the most beautiful traditions of Mexico, alebrijes. We carry on the very clear mission of sharing the nahual tradition with each one of our hand-painted sculptures, which I have been creating since I was a boy.

"I'm very happy to work with you, and for the opportunity to showcase my heart ornaments in the National Geographic catalog. Sales have soared since that time.

"Since we began working with you, we've become more perfectionist and strict with ourselves. And we received two honorable mentions from FOFA in the areas of sculpture and painting.

"We imbue our designs with energy, passion, and a beautiful promise to share our work and talent. More than anything, our alebrijes preserve traditions that reflect more than a century of history. One of our trademarks is a textured finish that is visible in each sculpture.

"We continue working with a variety of designs and colors in order to fulfill everyone's needs.

Original Artisan Story

"My parents are also artists in the tradition of the Mazatec and Zapotec peoples in Oaxaca. When I was a boy, I enjoyed helping my mother around the house. I was very shy and the target of bullying. When was 12, I took martial arts classes and, thanks to that, I learned to be disciplined and believe in myself. However, a few years later I hurt my knee and broke my clavicle, and couldn't continue.

"When I was six, my mother began teaching me to make alebrijes, which are small and fanciful figurines whose form is dictated by natural branches. This was a legacy that marked my life. I wanted to learn the stories of alebrije artisans. Later, I became interested in crafting them myself. My mother was very patient when she taught me this craft.

"In high school, I met my best friends. Mother was very strict, which helped me excel in my studies, be conscious about my attitude, reaffirm my values, be a good student and get along with people. These lessons have helped me develop the potential of my mother's art.

"While learning, I felt like an amateur. My mother was a very demanding teacher. She taught me to envision the finished sculpture so I could prepare the wood properly. She taught me to paint the figures with love so each one could have a life of its own. Learning the fundamentals wasn't enough. It was necessary to bring all my experiences to this art. My designs and painting technique have evolved over time. I used to paint in abstract and cubist style but now, my painting uses more shading.

"My sculptures are crafted in the same way as traditional alebrijes, but I felt I had to do something different. I think bulls are admirable and emblematic. They symbolize power, honor and strength, and I began making alebrijes in their likeness.

"Since 2013, I've participated in cultural events for museums and foundations at the national level. I still live in Oaxaca, which is the birthplace of copal wood alebrije art. I've continued developing my technique and also work with my mother. I want to demonstrate the principles she taught me through my crafts, which are loyalty, honor, respect for the family and love for my work. I believe that every day is a struggle and, in that struggle, alebrijes are our guardians.